Features of Nitration of Aromatic Aldehydes with the Difluoromethoxy Group
Keywords:
difluorometoxybenzaldehydes, nitration, ipso-substitutuion
Abstract
Nitration of aromatic aldehydes with difluoromethoxy group results in the partial ipso-substitution of the aldehyde group if difluoromethoxy group is located in the para-position to the aldehyde group. The presence of a chlorine atom in the meta-position to the aldehyde group increases the contribution of the ipso-substitution, while the presence of a chlorine atom in the ortho-position to the aldehyde group reduces it. The presence of strong donors (alkoxy groups) in the molecule eliminates the contribution of the ipso-substitution.
Supporting Agency
The authors received no specific funding for this work
Downloads
Download data is not yet available.
References
Lu, Y.; Liu, C.; Chen, Q-Y. Recent Advances in difluorometylation reactions. Org. Chem. 2015, 19 (16), 1638 - 1650. http://dx.doi.org/10.2174/1385272819666150615235605.

Yagupol'skii, L. M.; Anterpohl, W.; Artunc, F.; Handrock, R.; Klebanov, B. M.; Maletina, I. I.; Marxen, B.; Petko, K. I.; Quast, U.; Vogt, A.; Weiss, C.; Zibolt, J.; Herzig, S. Vasorelaxation by new hybrid compounds containing dihydropyridine and pinacidil-like moieties. Med. Chem. 1999, 42 (25), 5266 - 5271. https://doi.org/10.1021/jm990443h.
|
Weipeng, S.; Wang, J.; Qian, F.; Wang, F.; Jin, H. Fluoroalkylcombretastatin derivatives, method for producing the same and use thereof. U. S. Patent US2008306027 A1, Dec 11, 2008.
Yagupolskii, L. M.; Sedova, L. N.; Alekseeva, L. A. Aryldifluoromethyl ethers. Zhurnal Obschei Chimii 1969, 39 (1), 206 - 211 (in Russian).
Han, X.; Pradeep, S. N. D.; Critchley, K.; Sheish, K.; Bushby, R. S.; Evans, S. D. Supported bilayer lipid membrane arrays on photo-patterned self-assembled monolayers. – Eur. J. 2007, 13 (28), 7957 - 7964. https://doi.org/10.1002/chem.200700521.
|
Jacoway, J.; Narayana Kumar, G. G. K. S.; Laali, K. K. Aromatic nitration with bismuth nitrate in ionic liquids and molecular solvents: a comparative study of Bi(NO3)3*5H2O / [bmim] PF6 and Bi(NO3)3*5H2O / 1,2-DCE systems. Tetrahedron Lett. 2012, 53, 6782 - 6785. https://doi.org/10.1016/j.tetlet.2012.09.137.

Rakshit, S.; Lakshminarasimhan, T.; Guturi, S.; Kanagavel, K.; Kanusu, R. U.; Niyogi, A. G.; Sidar, S.; Luzung, M. R.; Schmidt, M. A.; Zheng, B.; Eastgate M. D.; Vaidyanathan, R. Nitration using fuming HNO3 in sulfolane: synthesis of 6-nitrovaniline in flow mode. Process Res. Dev. 2018, 22, 391 - 398. https://doi.org/10.1021/acs.oprd.8b00020.

Kristian, R.; Lang, S. A. Synthesis and antibacterial activity of 6-difluoromethoxy-7-piperazinile-3-quinoilinecarboxylic acid derivatives Pharm. Sci. 1988, 77 (5), 458 - 460. https://doi.org/10.1002/jps.2600770521.
|
Shelyazhenko, S. V.; Fialkov, Yu. A.; Yagupol'skii, L. M. Synthesis and reactions of difluoromethoxy and chlorodifluoromethoxy derivatives of benzene. Journal of Organic Chemistry of USSR (Eng. transl.) 1992, 28 (8), 1317 - 1324.
Williams, S. S.; Zammit, S. C.; Cox, A.; Shackleford, D. M.; Morizzi, S.; Jang, Y.; Powell, A. K.; Gilbert, R. E.; Krum, H.; Kelly, P. J. 3,4-Bis(difluoromethoxy)cynnamoylantranilate (FT061). An orally active antifibrotic agent that reduces albuminuria in a rat model of progressive diabetic nephropathy. Med. Chem. Lett. 2013, 23 (24), 6868 - 6873. https://doi.org/10.1016/j.bmcl.2013.09.100.
|
Medwid, G. W.; Paul, R.; Baker, J. S.; Mila, T. D.; Hallet, W. A.; Hanifin, J. W.; Hardy, P. A.; Lawrence, W. T.; Wren, S. Preparation of triazolo[1,5-c]pyrimidines as potential antiasthma agents. J. Med. Chem. 1990, 33 (4), 1230 - 1241. https://doi.org/10.1021/jm00166a023.
|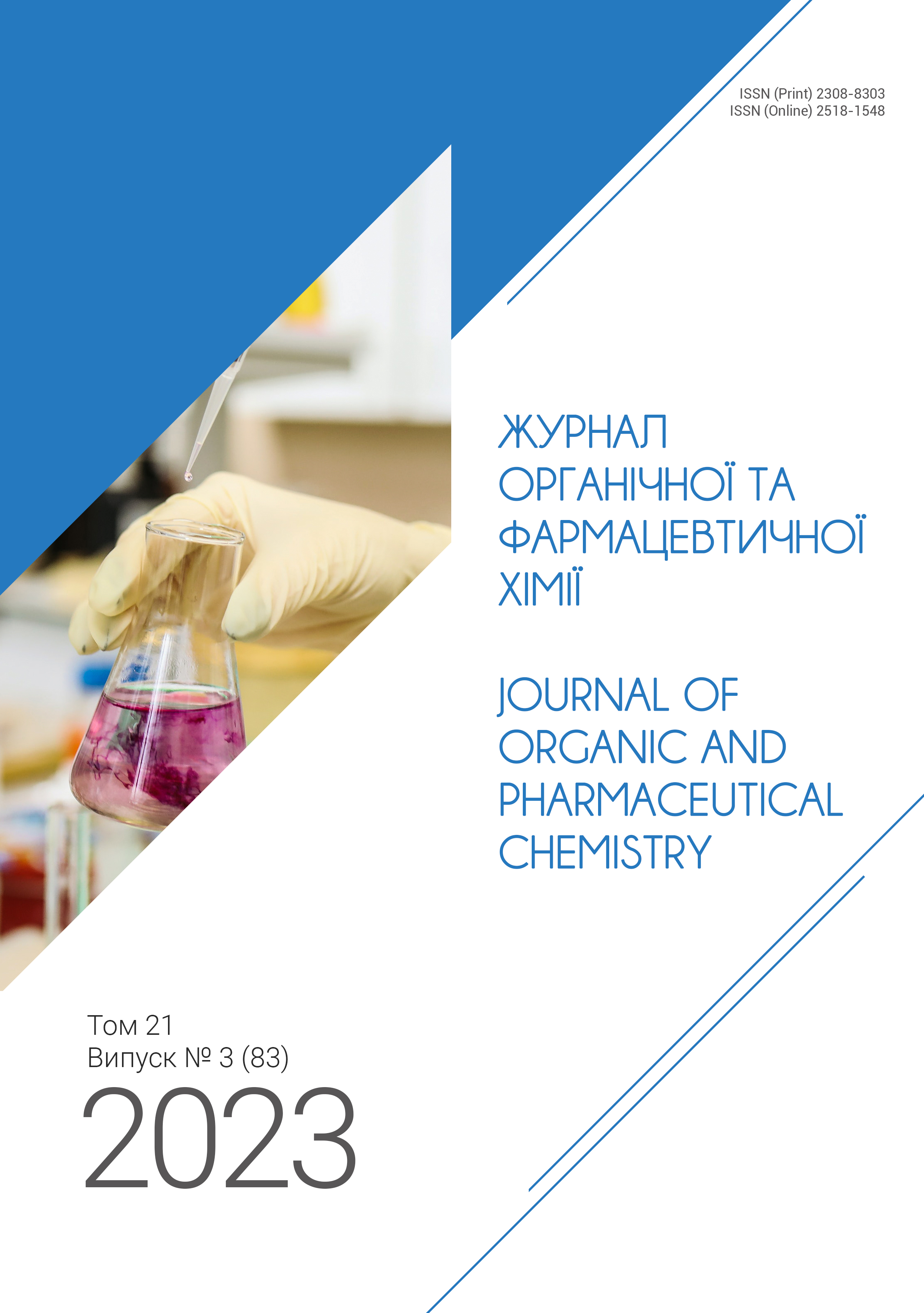 Downloads
How to Cite
(1)
Petko, K. I.; Filatov, A. A.; Sokolenko, T. M. Features of Nitration of Aromatic Aldehydes With the Difluoromethoxy Group. J. Org. Pharm. Chem. 2023, 21, 3-10.
Section
Original Researches
License
Copyright (c) 2023 National University of Pharmacy
This work is licensed under a Creative Commons Attribution 4.0 International License.
Authors publishing their works in the Journal of Organic and Pharmaceutical Chemistry agree with the following terms:
1. Authors retain copyright and grant the journal the right of the first publication of the work under Creative Commons Attribution License allowing everyone to distribute and re-use the published material if proper citation of the original publication is given.
2. Authors are able to enter into separate, additional contractual arrangements for the non-exclusive distribution of the journal's published version of the work (e.g., post it to an institutional repository or publish it in a book) providing proper citation of the original publication.
3. Authors are permitted and encouraged to post their work online (e.g. in institutional repositories or on authors' personal websites) prior to and during the submission process, as it can lead to productive exchanges, as well as earlier and greater citation of published work (see The Effect of Open Access).